Company Profile
Name
Chukoh Seiki Co., Ltd.
Established
April, 1925
Incorporated
December, 1942
Capital
28 Million Yen
President
Yoshikatsu Kudo
Manufacturing
Machines to process fine ceramic materials and a range of other minerals,
Waste water treatment machines & plants,
Design & manufacturing of crushing machines used in the recycle industry,
Machining of metal components for a range of industrial applications
Location
5177-7 Hiyoshi-cho, Mizunami-shi, Gifu-ken, Japan
Factory Size
14,707㎡
Main Banks
Juroku Bank Mizunami Branch,
Bank of Tokyo-Mitsubishi UFJ Tajimi Branch
CORPORATE HISTORY
April 1925
Established Inazu Steel Factory at Inazu-mura, Toki-gun, Gifu-ken and supplied
machines to the local ceramic industry.

August 1939
The company primarily manufactured aircraft parts.
December 1942
Moved to Toki-cho, Toki-gun and incorporated Chukoh-Seiki Limited Partnership Co. as a cooperate factory to Kagamigahara-Aircraft and produced aircraft components. The company employed some 300 factory workers.
February 1943
Re-organized to CHUKOH SEIKI CO., LTD. (a joint stock company).
October 1945
Wtih the end of World War 2, Chukoh Seiki returned and dedicated its entire
production to machines used by the ceramic industry.
August 1949
Technically cooperated with NGK Spark Plug Co., Ltd. and in close cooperation with NGK Spark Plug Co., Ltd., efforts were made to research and develop new
products for the ceramic, chemical and general industry.
July 1970
A new office was built and the factory was expanded.
April 1979
Expansion of the assembly shop.
February 1999
Comoletion of a new factory and a new office building.
November 2003
Awarded ISO Certificate 9001:2000
January 2005
Installation of a double column 5-faces machining center.
August 2006
Construction of a new factory building D (300㎡).
January 2008
Installation of a second double column machining centre.
September 2010
Acquisition of the Eco-Action 21 certificate.
August 2011
Installation of Kuraki CNC Horizontal Boring/Milling Machine
November 2011
Participation in an overseas exhibition for the first time, Shanghai International
Industry Fair.
June 2016
Joined a Member of Japan Powder Industry Technology Association
December 2016
OM Turning & Drill Installation
経営理念
Management Policy
Chugoku Seiki has made "real things" exhibited by the company since 1925.
Realize with accurate technology · quick action · sincere heart.
As a primary aim of customers to be satisfied and happy,
We will refine creativity, constantly pursue improvements in technology and quality of development, keep delivery terms, and create true-hearted products.
We will strive to contribute to society by improving technology and building materials that place importance on the environment.
We will build a good human relationship and aim for a company with a free atmosphere.
Environmental Activities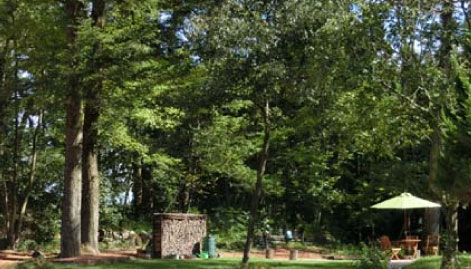 Thanks to the factory, we are blessed with the surrounding environment as a manufacturing factory. Surroundings are surrounded by trees and private houses are not nearby. We are proud to be able to produce in this natural environment, and at the same time we would like to continue to make products with due consideration to the environment.
Around the beginning of the Meiji period, a good quality Kaito feldspar was discovered at the foot of Mt. In the crushing of the feldspar, a cylindrical tromel made of iron was used in Taisho era. Using the water of the Sasagi River flowing from the mountain, we moved the water mill and moved the tromel. Also surprisingly when I was not using Tromel, I used a water mill as a power source for a jaw crusher. It was exactly the ultimate energy conservation practiced at that time. I think that we have been strongly involved with the production of tromel and sludge wastewater treatment equipment etc. from old days without considering our environmental situation so much.
Troubles Indeed the productivity and efficiency has transformed the water turbines into electric motors, but the spirit of the environment that has been handed over to unconsciousness has not changed. (Reference film)
It is now desired that a global society be protected and a sustainable society to be created and there is no time to be sought. Recycling and reusing things like waste / landfill disposal. We will contribute even a little in fields such as creation of other energy to reduce fossil fuel consumption, development of equipment to store surplus energy. Although there are some areas already practiced, we would like to contribute even more strongly and consciously.
I think that we do not see everything about our machines first. With our machine you can not make the final product as directly seen in the general market. However, I think that it is a machine that plays the role of so-called shade of such other people, the role under the rim, which is made of raw materials that can use our machine and produce good products using that raw material It is.
April 2014 Green Supplier Certification was given.
The certification was given by the group of NGK Spark Plug Co., Ltd.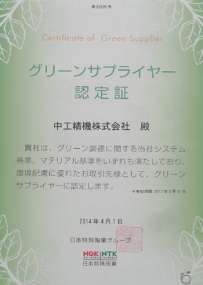 Practice of 5S Campaign (5S come from Japanese words starting from Sound S meanig of Put things in order, Straighten things up, Cleaning, Keep clean and Training)
5S campaign works are done once in two or three months in factory, offices, outside the buildings including neighbor public road.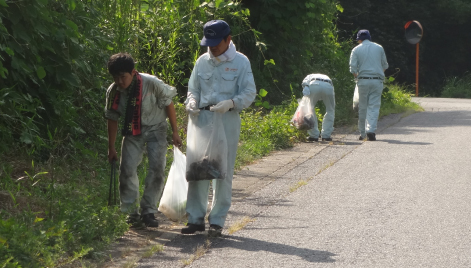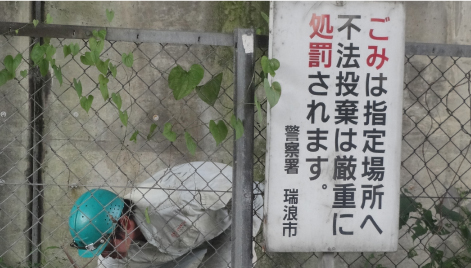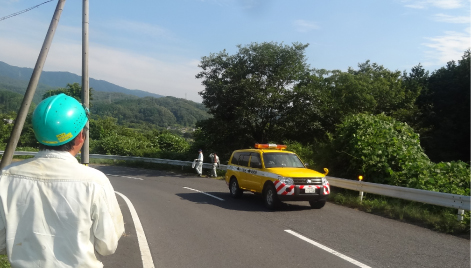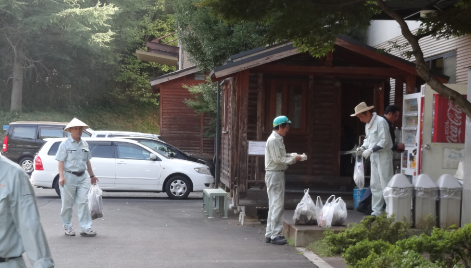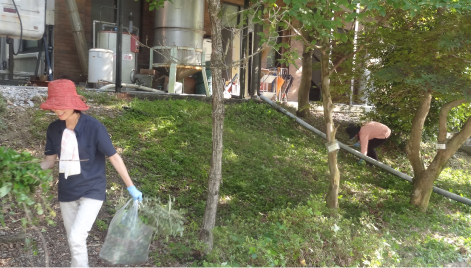 Picking up cans, bottles, poly bags, trash etc. thrown by car drivers at the sides of road..
The crime of littering along roads never end. There are empty cans, bottles, pet bottles after driking coffe, soda, juices, water, also lunch food ware in poly bag after having lunch, empty paper or vinyl bags after eating snaks scattered road sides thrown out of windows by drivers. Picks up them and clean them up, but after a few days again same scenery be seen. The drivers who does not litter never litter, the drivers who litter always litter. The problem of littering on the road is this type of drivers "always litter". There is a proverb that the person who throw away will be thrown away himself someday. We want to stop the litterring and keep our precious place full of nature clean always.
Certification / Registration / External Awards
November, 2003 ISO 9001 2000 Certification acquired
Construction and practice of Quality management system. Keeping record of manufacturing, control of quality and make good use of it for repair or mantenance after yeares.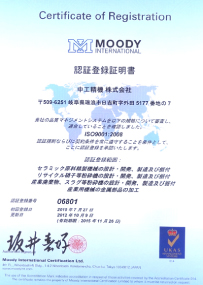 March, 2012 Registlation of trademark
Acquired Class 7 under the name of Ball Mill and others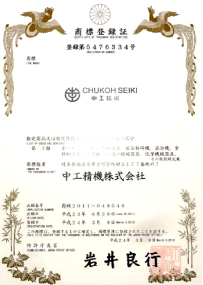 Overseas Delivery Record
Asia
China, Korea, Taiwan, Thailand, Malaysia, Vietnam, Philippines, Myanmar, Bangladesh, Sri Lanka, Indonesia
Middle East
Iran, Saudi Arabia, Egypt